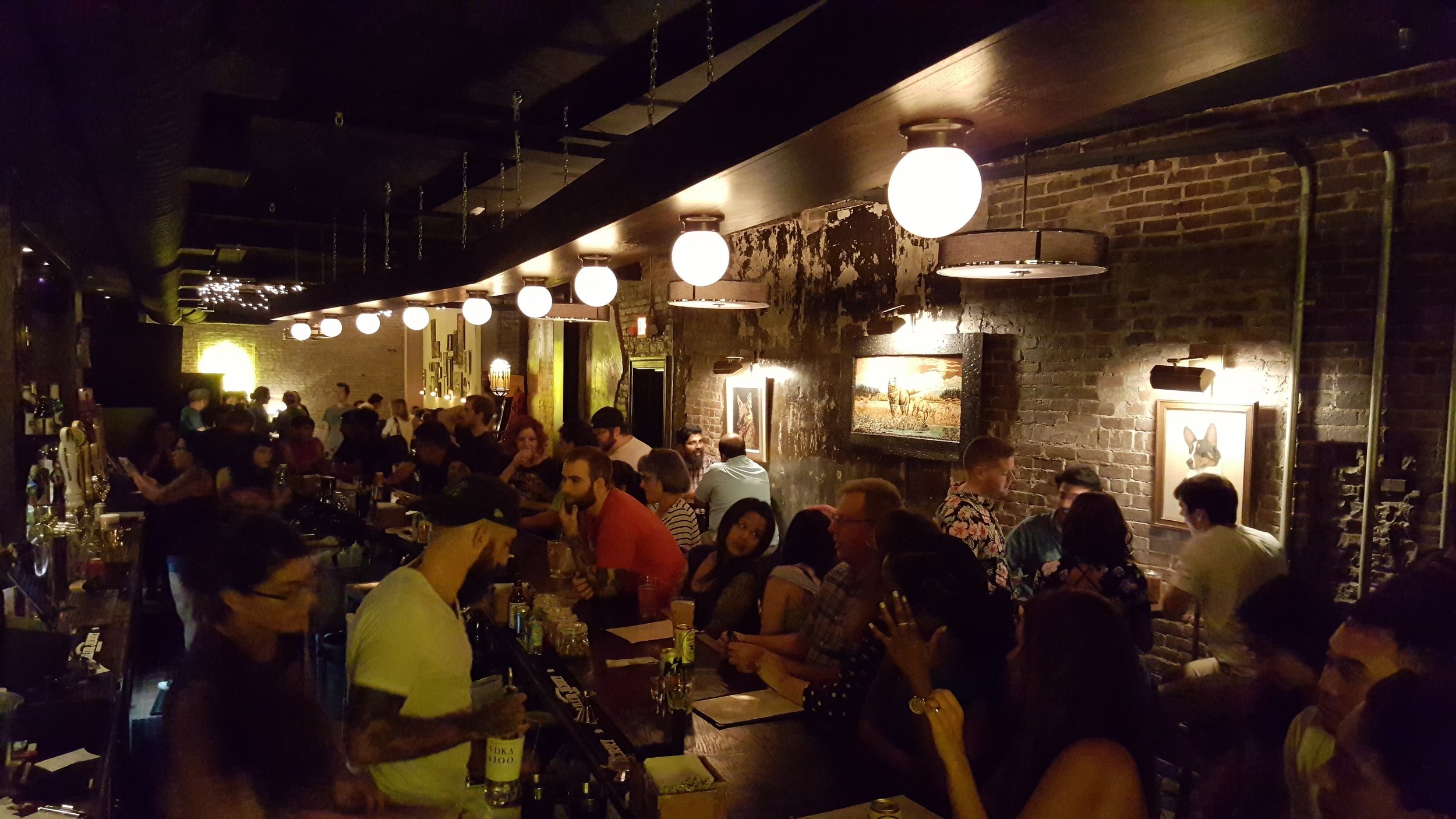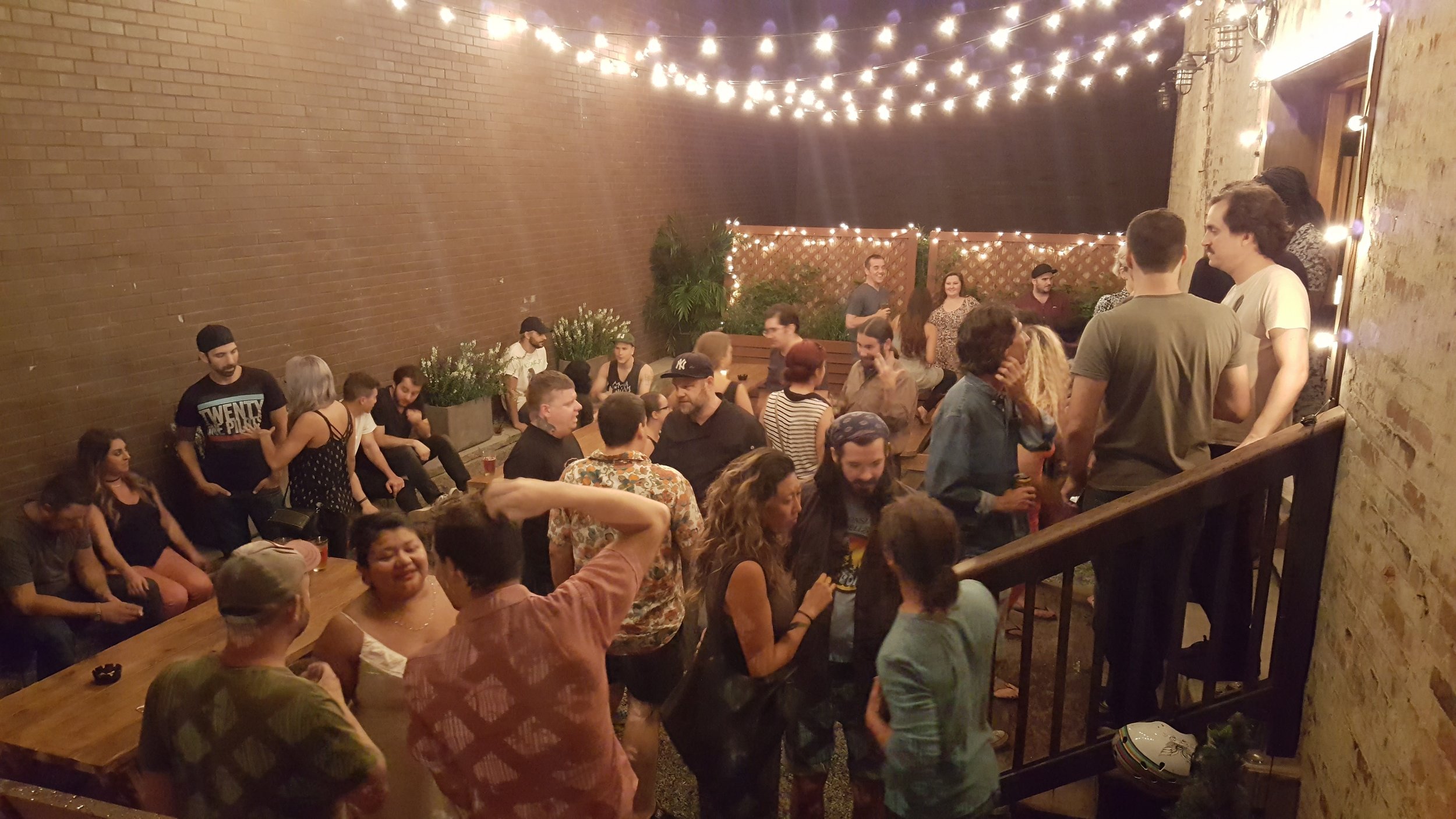 Neighborhood bar serving booze, food and tunes.
HOURS
Mon-Fri 4pm-last call
Sat–Sun 12pm-last call
LOCATION
193 Newark Avenue
Jersey City, NJ 07302
PHONE
(201) 984-2170
$

6
Great Lakes Turntable
Pilsner, 5.3% ABV Cleveland, OH
$

8
Boulevard Tank 7
Saison, 8.5% ABV Kansas City, MO
$

7
Kane Head High
IPA, 6.5% ABV Ocean, NJ
$

7
Allagash White
Wheat, 5.1% ABV Portland, ME
$

4
Labatt Blue
Pilsner, 5% ABV Canada
$

4
Coors Lite
Lite Beer, 4.2% ABV Golden, CO
6 additional Rotating taps too!!
$

7
Dogfish Head Seaquench
DE
$

7
Guinness Stout
Ireland
$

7
Whiteclaw Hard Lime Seltzer
IL
$

7
Hell or HIgh Watermelon
CA
$

6
Del's Summer Shandy
RI
$

7
Brewdog Elvis Juice IPA
UK
$

7
Lagunitas Daytime IPA
CA
$

10
Wolffer No. 139 Dry Rose Cider
NY
$

10 /

$

40
Prosecco Extra-Dry, Alberto-Nani
Veneto, Italy NV
$

10 /

$

40
Cava Brut Rose, Conquilla
Catalunya, Spain NV
$

9 /

$

36
Field Blend, Hermann J. Wiemer
Finger Lakes, NY 2016
$

9 /

$

36
Chardonnay, Domaine de la Patience
Costierres de Nimes, France 2018
$

11 /

$

44
Jacquere, Domaine St-Romain
Savoie France 2017
$

11 /

$

44
Rose Blend, Chateau du Rouet Reserve
Cotes de Provence, France 2018
$

8 /

$

32
Nero D'Avola, Zabu
Sicily, Italy 2017
$

11 /

$

44
Pinot Noir, Gaspard
Tourainne, France 2017
$

10 /

$

40
Syrah/Cabernet Sauvignon, Reyneke Vinehugger
Stellenbosch, South Africa 2017
A Little Pep in 'Er Step
St. George Chile Vodka, Caffo Mezzodi, Jackfruit, Lemon, Agave
Orion at Sea
Diplomatico Mantuano, Coconut Rum, Charanda Blanco, Orange Shrub, Hibiscus, Orgeat, Lime
Orange You Glad…
Old Overholt Rye 100 Proof, Crème de Banane, Fernet Branca, Orange Bitters
Garden Party
Hendrick's Gin, Vicario Artichoke, Basil, Green Apple, Lime, Bubbles
Leatherback Derby
El Buho Mezcal, Chartreuse, Raspberry, Lemon, Grapefruit, Soda
West Coast 'One a Day'
Monkey Shoulder, Glenfiddich Fire and Kane, Cranberry, Lemon, Ginger, Honey
$

10
Cauliflower "Wings"
Vegan ranch, carrots, celery, choice of: Buffalo sauce, Sweet Chipotle Lime, Spicy sweet and sour.
$

12
Lettuce Wrap
Sautéed gardein "ground beef," chopped mushrooms, onions, pickled carrots, with a peanut sauce. Garnished with peanuts, green onions, green beans, served with romaine lettuce
$

10
Jalapeño Cheese Curds
Hand breaded Wisconsin jalapeño flavored cheese curds. Served with cilantro crèma sauce and parsley
$

10
Spinach Artichoke Dip
Fried pita chips, with parmesan, spinach, marinated artichokes, and parsley
$

5
Warm Pretzel
Choice of spread: Pimento cheese, Honey mustard.
$

11
Loaded Tate Tots
Fried tater tots with house nacho cheese, gardein "ground beef," pico de gallo, "bacon bits," shredded mixed cheese, crema, jalapenos, and cilantro leaves.
$

13
Southwest Salad
Chopped iceberg lettuce, cherry tomato halves, grilled corn, black beans, house smoked mushroom "bacon bits," shredded mixed cheese, fried corn tortilla strips with cilantro lime dressing
$

13
"Sausage" and "Scallop" Jambalaya
Jambalaya seasoned rice with diced bell peppers, jalapeños, house made smoked "sausage" seitan, and marinated king oyster mushroom "scallops"
$

16
Caramelized Onion Burger
IMPOSSIBLE BURGER, vegenaise, lettuce, tomato, pickles, caramelized onion, potato bun, fries.
$

15
IMPOSSIBLE BURGER Patty Melt
Smashed IMPOSSIBLE BURGER with mixed and Swiss cheese on grilled white bread. Cut into strips and served with house tomato sauce and fries
$

13
"Sausage" and Peppers Sandwich
Housemade smoked seitan Vegenaise, bell pepper, onion, Portuguese hero, fries.
$

12
Eggplant Parmesan Sandwich
Deep fried panko coated eggplant with sautéed fennel and onions, topped with cherry tomatoes, mozzarella, parmesan, and house tomato sauce. Served on a toasted Portuguese hero with fries
$

10
Chickpea Toast Points
Smashed chickpeas with carrots, celery, dill, sweet relish, pickled Fresno chilies, and jalapeños. Served on toasted sourdough bread
Contact Us
Have questions, feedback or comments? Want to hold an event at Pet Shop? Or just wanna say hey?
We'd love to hear from you, so use the form below.